HEALTH is about Having Energy, Abundance, Love, Time and Happiness. You achieve this by working on the Basics, changing your Attitudes and Negative Patterns with Knowledge & Wisdom and reach your Health Goals thereby leading a fulfilling personal and professional life.
To help you begin this journey to a healthy lifestyle we have regular weekday and weekend sessions (Sadhana) at Thane and Wadala. These sessions which focus on Breath, Energy and Consciousness through Kriya Yoga, Meditation and Sound Healing energise you and help you establish the core of a healthy lifestyle.
Dr. Alpa Dalal Co-founder of Healthbank and HOD – Pulmonary Medicine , Jupiter Hospital, explains why Sadhana is a practice that energises and sets you on the path to a Healthy You.
Every Sadhana Session includes:
Loosening Exercises
12 Holistic breathing exercises to improve your vitality
Suryanamaskar for fitness, flexibility and weight loss
Balancing 5 elements and 5 Pranas with Kriya, Mudra and Sound
6 Step Nirmal Dhyan with Tibetan singing bowls
Sunyoga or Heart Meditation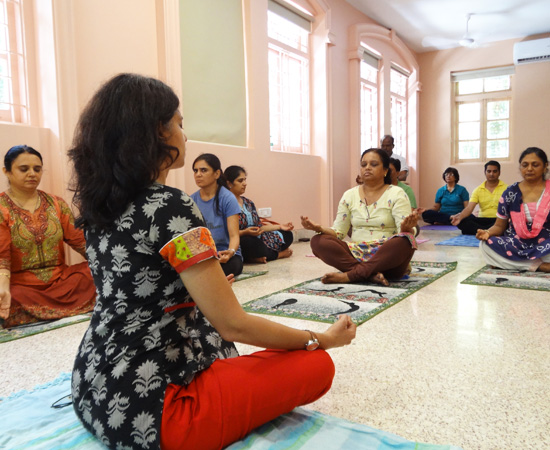 From beginners to regular practitioners, all have appreciated the structured weekly Sadhana we conduct. These are their testimonials
Sadhana Sessions we conduct
Register for your free session
We invite you to experience this Sadhana through a free session that we hold on the last Saturday of every month. Your journey to a healthy lifestyle begins with this first step.
To register for your FREE session please call Purvi on 9769089127. The free session is available to you strictly by registration.
For more information, please Contact Us, it just takes a couple of minutes of your time. You could also call us on 02225339533 if you need to talk to someone or write to us at healthbankthane@gmail.com.